The CorkQueen Reigns Over Wine!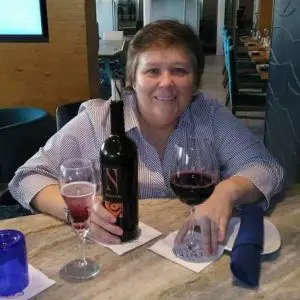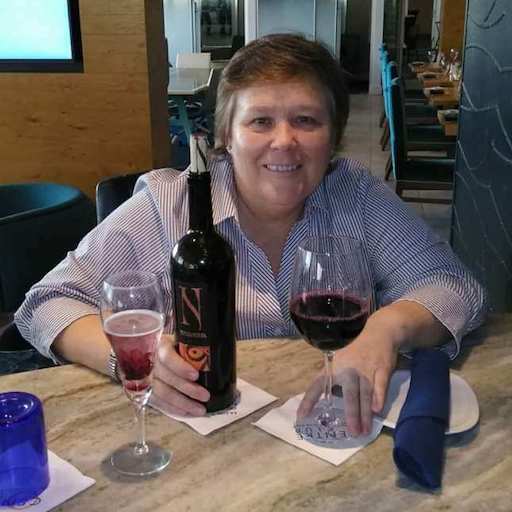 Known to her friends and family as Karen, she has embraced the idea of wine and education.
Karen began her involvement in wine while working at the Grand Hotel on Mackinac Island, Michigan. She started as a bartender and advanced to the Beverage Controller.
Karen enjoys discovering new wines (especially Spanish reds) and sharing those discoveries with her friends.
Karen has passed the WSET 1 and the WSET 2. She has led the monthly event, Wine Down Wednesday at the Centre Club in Tampa, Florida since 2016.
In 2019, Karen started the Bacchus Club of Tampa Bay. This group has the opportunity to taste higher-end wines or enjoy a wine pairing dinner. Sometimes they even get a visit from winemakers from the U.S. and Internationally.
Karen currently serves on the board of Corks 4 A Cause, which is a 501(c)(3) that holds wine events to raise money for other non-profits in the Tampa Bay area.
🍷 Private Events 
CorkQueen's mission is to educate you about wine.  We know that when our guests know more about what they are drinking, they not only have a better experience, but they are more likely to try new wines.
Are you celebrating a Birthday, Anniversary, or another Holiday Event? CorkQueen offers Wine Theme Private Events. At a Wine Theme Private Event guests will sample 4 to 6 different wines from around the world that the CorkQueen has personally selected or that you have chosen. You will learn about the Wine Region, the Winery, the Grapevine, the Climate, the Soils and how the wine is made and Aged. 
Wine Theme Private Events are for parties of two (2) to twelve (12). They can be held at a location of your choice within a 20 mile radius of downtown Tampa, or remotely via Zoom Video. 
Contact Karen via the Private Event Contact Us Button below to schedule a chat about Your Personalized Wine Private Event
"So glad to hear of your new venture. If anyone can make this new venture successful, fun, entertaining and interesting, it is you. At the various functions that you facilitated on wine, that I attended, they were the most enjoyable, entertaining and educational. You have a wonderful knack for presenting and a huge knowledge of wine."
"As a former client of Karen, she invited me to a wine tasting at the Centre Club. I was curious to learn more about wine so I went. What a great event! Not only did I learn more about some of the wines I was already drinking, I was also introduced to some new wines. Some of these new wines have become my favorites! I got some good recommendations for wine parings with food I cook a lot. I met some new people. So not only did I walk away with some new wine knowledge but I had a great time!"
"Karen has a wide experience with wines and is always willing to educate and entertain about and with wines. She has a knack for matching your tastes with a great wine. Love the CorkQueen!"
"I am admittedly an uneducated wine snob. I know what I like and what I don't like when I try it but have never had the language to be able to share that in a meaningful way. Therefore, wine was always a frustrating gamble. Karen Koch has opened up a world where wine is exciting for me! She doesn't ask me to explain what I have liked in wine terms, but used my own vernacular and therefore has consistently led me to great wines. One of the things I love the most is that she doesn't just recommend the most expensive bottle. She's comfortable recommending a bottle in my price range and supportive along the way. I now feel empowered to buy my own wine when I'm not with her, but consult her for occasions. She was fantastic at picking out wines for my wedding, as an example. It is always a pleasure being in her company, and I look forward to future events with her. I highly recommend Karen's services for corporate events, social gatherings, weddings, and just self-improvement, She has taken the time to gain insight and experience and is generous in sharing it with others. Cheers to Karen!""
"Karen knows her wine! She explains the region where it comes from and the different tastes/tannins to look for. We have enjoyed many functions with Karen. She brings in new wines that we had not heard of before and shares her knowledge about them. Enjoy learning & tasting with Karen!"
"I have had the pleasure of being taught the nuances and history of wine from all over the globe by Karen Koch. Not only does she know her stuff, she presents it in an interesting way and picks great wines and pairings. I have never been someone who knows wine but knowing I have Karen to show me the way gives me a much better and more refined wine experience!"
"Any wine time with Karen is fun! Karen is knowledgeable, witty and a great conversationalist. When it is time to choose wine, I prefer Karen to choose the bottle because I know it will be something new and interesting."
"Karen is amazing! She is so knowledgeable and so great at explaining the complex topic (and dare I say sometimes snobby) topic of wine to EVERYONE! She meets you at your level and makes it so fun! You can tell wine is her passion and she is tremendous! I love wine and have been an avid drinker for a while and I learn something new every time I have wine with Karen - she exposes me to so many new and wonderful labels!"
"There is no better person at picking out wine than Karen. Before I purchase anything I ask her first and I haven't been disappointed one time yet. She gets all different varieties which is the best part of Karen. Also, if there's a really cheap wine list she'll be honest and tell you to get the beer."
"Karen has helped me select some excellent table wines, some great alternatives to wines I know my friends enjoy so I could give them gifts that matched their tastes, and excellent introductions to wines my wife really enjoys. She's awesome."
Beth Socoski - Karen is phenomenal. Her recommendations are always amazing. Each time I try a new wine with her, I think "this is now my favorite wine!" and then she blows me away with something even better. She is incredibly knowledgeable, a fantastic resource, and an all-around great person."
"Karen can will help you choose a great wine and she's an excellent chef... so she can pair with excellence! Can't wait for her next visit!"
"Karen knows her wines. I respect that!"
CorkQueens' mission is to educate you about wine. We know that when our guests and members know more about what they are drinking, they not only have a better experience, but they are more likely to make a purchase.
At each event you will taste a different set of wines from around the world that the CorkQueen has personally selected. You will learn about the Wine Region, the Winery, the Grapevine, the Climate, the Soils and how the wine is made and Aged.
Contact the CorkQueen for your own personal tasting.  Price person is based on theme or selection of wines.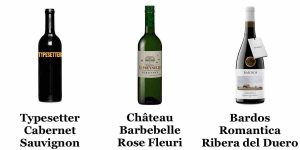 Wine + Education = Fun! Yes, We Are OPEN For Business! CorkQueen Wine Specials! Typesetter Cabernet Sauvignon Napa Valley TYPESETTER CABERNET SAUVIGNON NAPA VALLEY Others: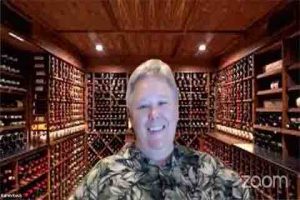 Karen "CorkQueen" Koch, founder of the online Wine & Beer Empire www.CorkQueen.com talks with Pat Lynch and Dr. Loren Murfield on their video podcast Trends, Bends, and Opportunities. Learn how and why Karen got her start in the wine business and how her focus is to educate her visitors first and foremost, then help them find wines that will delight their taste buds.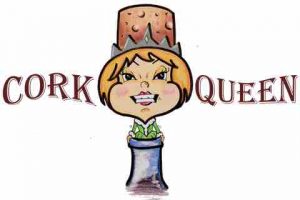 Recently, I was having wine with some friends.  Now I know that this isn't earth-shattering news but it got me to thinking about the evening.  First thing was that it was a Monday night – Somewhat unusual, but not totally weird.  The second thing that came to mind was that we decided to meet at a friend's house instead of going someplace public.  Once again, not mind-blowing.  The third thing was that the 4 friends that traveled, for a couple of hours of catching up, all traveled about 20 miles to spend time together.